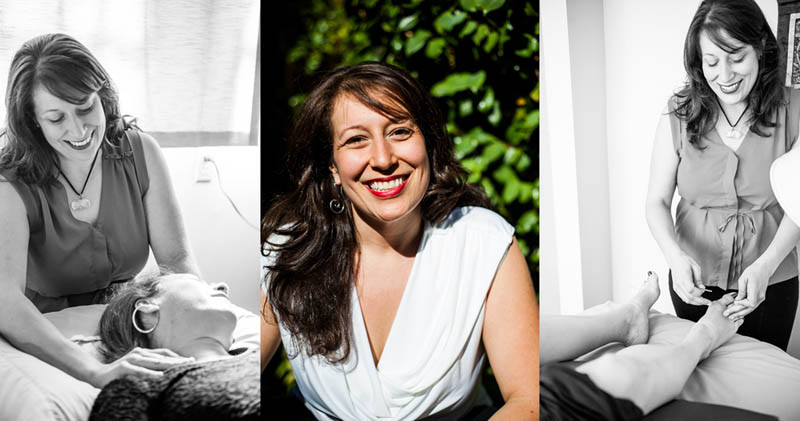 Juliana left the world of advertising / graphic design in 2005 to pursue her true calling - that of a healer - and became a successful Massage Therapist.  
Then in 2007,  after experiencing an acupuncture treatment that provided great relief for a bout of her sciatica (pain down the leg) she became fascinated by acupuncture  and took the leap to study the art and science of Traditional Chinese Medicine (TCM).
While in school for TCM she concurrently became a OneTaste Certified Life Coach using the Co-Active Coaching method, adding to her healer tool kit. After five years of rigorous study at the most prestigious TCM school in the nation - American College of Traditional Chinese Medicine, including two externships learning to treat stroke and brain injuries at California Pacific Medical Center - Davies Campus, she became a Licensed Acupuncturist and Herbalist in 2012.  
She spent almost two years working at Chinese Hospital in San Francisco, treating interesting cases from complex Women's health issues, to Bells Palsy, depression and anxiety, to throat pain found incurable by Western Medicine, and realized her passion for treating pain and mental health conditions.   She had a private practice in San Francisco following that and after moving to Berkeley in 2014 opened her current private practice there.  Her style combines her original TCM training with very effective Japanese style acupuncture techniques by Kiiko Matsumoto, and the acupuncture systems of Dr. Richard Teh Fu Tan and Master Tung Ching-Chang.  
When not coaching or poking people to wellness, Juliana loves hiking the trails at Tilden, regularly attending various personal growth workshops, as well as continuing education workshops to stay up to date in the latest most effective Chinese medicine treatments, and valuing connection above all else - she cherishes her quality time with family and friends, especially if it's with a Cards Against Humanity deck!
From Juliana: I believe each person has innate healing abilities and it is my joyful purpose to facilitate your re-connection to the part inside of you that knows just what to do to go from pain to relief, and good to better.  You give me my purpose on this planet, and I am honored and humbled to serve everyone with respect, compassion, love and the best expertise possible.  Thank you for entrusting me to walk with you on your path to optimal health!